Most Expensive Hotel In Nigeria
Most Expensive Hotel In Nigeria –  The figures you will see here, might outrage you. I just needed to publish this article on the most expensive Hotes in Nigeria. As far a we are talking about some great and nice places to be in terms of hotels in Nigeria, we are not short pf them. So those people with cool money, our Nation Nigeria is a sure great country to be when it comes to good and expensive hotels.
From the figures we will be looking at shortly, you will discover that the kind of money people pay for a room in some of these hotels are capable of buying someone a plot of land in some areas in Nigeria.
 Below, i amd my team have done our research and have been able to put together the Ten most expensive Hotels In Nigeria.
1. King Executive Suite – InterContinental Lagos Hotel
 A room here cost an average nightly rate of $ 2,435.00 USD.  As a cuctomer or patronizer, you are offered a complete breakfast, 2 hours boardroom usage, lounge access cocktail and Ferragamo bath amenities. You can also make an order for rollaway bed and Nespresso machine.
2. Presidential Suite – Sheraton Hotels & Resorts Abuja.
I bet you have never seen a place like this before in your life for those who have not been there. Well i only went there for this research and i saw what money can do. A night there is well enough to pay the salary of some civil servants put together.
Rates: $1953 per night
 3. Presidential Suite – Eko Hotel & Suites
Eko Hotels and suites actually is the post prestigious and most expensive hotel in Lagos. One sweet thing about this hotel is that it is strategically located to give spectacular views of the Kuramo Lagoon and the Atlantic Ocean. You can experience the ultimate comfort while you are far from home in this most extravagant suite, equipped with two separate King size bedrooms, working / dining Area, a lounge area, large screen TVs, hi-fi stereo system. Rates: $1292 per night
4. Junior Suite – Protea Hotel Ikeja
It offers a very good car service programme. you will definitely see the reasons why it has been described as being the best by her customers. Rates: $922 per night
5. Apartment King 2 Bed City – Federal Palace Hotel and Casino. Lagos

Rates: $1027 per night
6. Presidential Suite – Grand Towers Hotel. Katampe District, Abuja

  Rates: $421 per night
7. King Executive Presidential Suites – Transcorp Hilton Abuja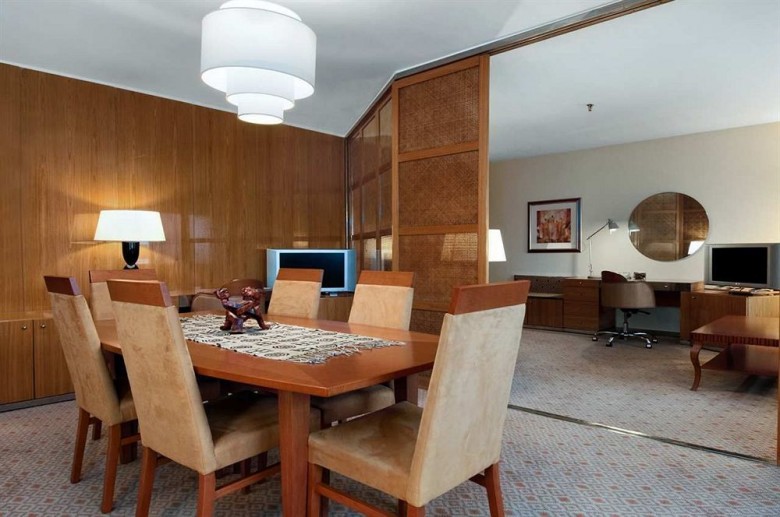 Rates: $2994 per night
Most Expensive Hotel In Nigeria